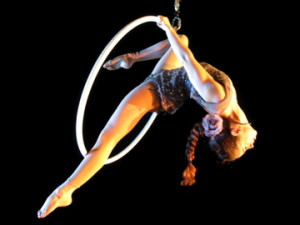 A single point aerial hoop act that can also be performed counterweighted or at a static height. The act includes beautiful shapes and transitions and dramatic spins and drops, where Nénuphar lets go and catches the hoop high in the air! Suitable for small or large venues, with impressive floor work and breathtaking swings across the crowd. The polished pirouettes and emotive music make this a strong and beautiful act. Acts can be adapted to suit the theme of your event.
Available acts include:
'Rumble' 1950′s styled hoop:
'Broken Waves':  using music reportedly heard on the 'Titanic', as played by the onboard chamber orchestra as the ship sank to the depths. A watery waltz performed in shimmering silver sequins.
'I Put A Spell On You': using music of Screaming Jay Hawkins, this character seems possessed by the voice that sings out in demonic fashion. Unhinged but under control, the tension in this twisted take on a lovesong builds to a climax as the dancers spins faster and higher to the end.
'To Forgive But Not Forget': using a drum and bass track, that mixes classical violin and breakbeat. An edgier act suitable for nightclubs, cabarets and festivals.