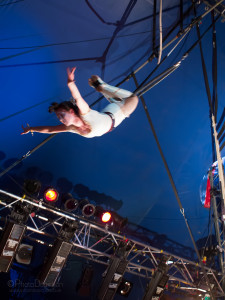 Using the rotating hoop, this is a swinging act with a twist! The hoop is fixed from side bearings allowing it to turn over as the aerialist swings through the air. Breathtaking somersaults and dives whilst in contact with the equipment, and fluid moments of flight make a thrilling and visually pleasing act.
Technical requirements and risk assessment available on request.
Minimum height 8m, and minimum 7m x 3m clear pathway front and back of the swing bar.